In March of 2022, a task force of fourteen community association industry experts gathered to begin the process of revising Community Association Institute's (CAI) Reserve Study (RS) Standards. Originally published in 1998, the RS Standards provide a consistent framework under which reserve study providers and common interest communities should operate in tandem – a necessary blueprint for the then-new industry. Since then, both the community association and reserve study industries have rapidly grown, and the RS Standards have been revised to reflect the current climate.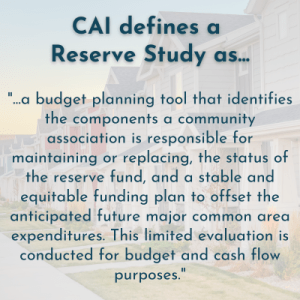 Following the Surfside tragedy, CAI compiled working groups to discuss public policy solutions aimed at keeping communities and their buildings safe. After the development of public policy initiatives, CAI assembled the task force to modify the RS Standards, accounting for the critical nature of building safety. 
The comprehensive task force, including Reserve Advisors' very own Michelle Baldry, other reserve specialists, association managers, board members involved in legislative committees, an attorney, and an accountant, revised the Standards to strengthen the blueprint that allows reserve study providers to best serve associations. 
Reserve Advisors diligently supports and implements these Standards, as we are committed to providing the highest level of physical and financial well-being for your community. Here are the main takeaways from the revised Standards. 
Because reserve studies are instrumental to the success and safety of your community, the provider you choose is equally important as the choice to commission a study. Reserve studies should always be conducted by a qualified professional, with CAI most highly recommending designated Reserve Specialists. CAI grants Reserve Specialist designations to individuals who have prepared at least 30 studies in the last three years, possess adequate education and experience, and have committed to the highest ethical and professional standards. 
With engineers and over 30 Reserve Specialists on staff, our sole mission is to provide you with education and empower you with an accurate budget and action plan that reflect your community's true cost of ownership. Other professionals qualified to conduct reserve studies include professional reserve analysts, engineers, architects, and more. 
It is incredibly important that a framework for reserve study services exists to ensure that associations of all types and sizes are receiving a consistent base level of service, regardless of the study type or provider they choose. There are four primary reserve study types or levels, and five central tasks that providers perform based on the level of reserve study service being conducted. Learn more about how Reserve Advisors approaches each level of reserve study here. 
When it comes to the component inventory, which we compile at your study's kickoff meeting, it is best practice to disclose all association-maintained long-lived components. Long-lived assets such as foundations and electrical systems may not need funding or maintenance within the 30-year scope of the reserve study, but they should be disclosed to your provider and included in the report. Your provider should prepare useful life and cost information for these items, even if they don't currently require funding, so that you're knowledgeable about the true cost of ownership of your association. 
Because your community is ever-changing in its unique physical and financial needs, it is best practice to regularly update your study to maintain an accurate understanding of your community, especially if you've started or completed any capital-intensive projects since your last study. Because wear and tear are often unpredictable, a Level II Update With a Site Visit is recommended every three years to ensure that the remaining useful life of each component and their respective funding plans are still accurate, leaving minimal room for surprise expenses that could force deferred maintenance or compromise the safety of your residents. In some cases, communities can go longer than three years without an update. We provide complimentary consultations to discuss the merits of updating your study versus delaying the service. If your community can go longer than three years without an update, we will let you know. 
In addition to the four study types are Preventive Maintenance Manuals and Periodic Structural Inspections. These supplemental reports work to both minimize the life-cycle costs of your community and improve the safety of structural systems. 
Preventative Maintenance Manuals are a recommended inclusion for all reserve studies, as they disclose if a preventative maintenance schedule is being followed and if components, long-lived or otherwise, are not being regularly maintained. If a component is not regularly maintained, it is unlikely to obtain its full useful life. Your provider will determine the appropriate estimated remaining useful life and create a funding plan that prepares for its replacement, which is especially important when the useful life has been shortened as a result of deferred or reactive maintenance. 
 Primarily applicable to mid and high-rise buildings,  Periodic Structural Inspections are initial and recurring inspections of your buildings and major structural elements. By monitoring these elements on a continuous basis, you can rest assured that your community is structurally sound and your residents are safe. The frequency and cost of these inspections vary and should be included in your reserve study as a reserve expenditure if deemed appropriate by your provider to ensure adequate reserves are available to conduct them as needed. If the inspection finds that maintenance is necessary for any element, the timing and cost for this should also be included as an expenditure in your study. In some cases, additional inspections such as facade inspections and inspections regulated by local jurisdictions may be necessary. 
We understand that running an association isn't easy, and there are many moving parts. The Reserve Study Standards not only simplify the reserve study process by providing a solid framework for the service, but they also empower you with the knowledge you need to understand the reserve study process and your community as a whole. We aim to ensure your community has what it needs to keep your property safe today and prevent costly and avoidable repairs tomorrow. If you have questions about the Standards or reserve studies in general, please do not hesitate to reach out!