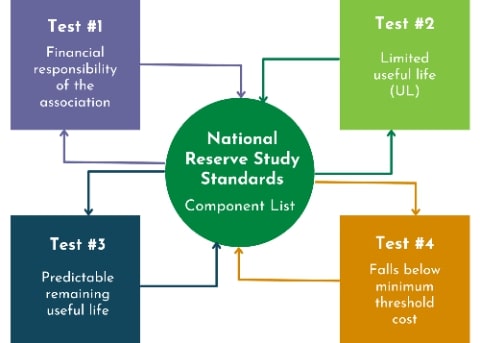 When it comes to a building or home, the entire structure is only as strong as its foundation. Similarly, when it comes to planning for your community's future, the scope of work, or component inventory, serves as the foundation for a reserve study provider to conduct a thorough review of your property. Only then can recommendations that meet the needs of your association be delivered.
Prior to beginning the reserve study, associations should provide their reserve study consultant with a copy of their community's governing documents, which lay out the components that the association is responsible for. These documents serve as a starting point for developing the component inventory or scope of work. The reserve study provider, through conversations with community management and the board, will also take into account historical practices to determine which components should fall within the scope of work and, thus, be funded through reserves.
Community Associations Institute's (CAI) National Reserve Study Standards establishes which components are included in a reserve study. Each component must meet all parts of a four-part test in order to be classified as a reserve component, and therefore be funded by reserves. 
The first test is perhaps the most simple – the expense of maintaining a component must be the financial responsibility of the association. Though there are components that universally exist from one association to the next, no two associations necessarily maintain the same components. Thus, governing documents serve as a starting point for evaluating which components are the responsibility of your association.
The second test ensures that only those components with a limited useful life expectancy are considered a reserve expense. Components that have extended useful lives may not have a predictable useful life or their replacement occurs outside the 30-year scope of the reserve study. The operating budget should fund infrequent repairs to such items. Learn more about long-lived components here.
Test number three requires that a reserve component must have a predictable remaining useful life expectancy. This test rules out any capital expenditure that would be unpredictable. Future expenditures need to be anticipated within reason and planned for in order to be included in the reserve study.
The fourth and final test rules out any capital expenditures that fall below a minimum threshold cost. Expenses that fall below a minimum threshold are readily addressed through the annual operating budget. Furthermore, prioritizing capital projects and managing a reserve fund budget is more efficient when it is void of small projects better suited for the operating budget. Here lies much variation from association to association as a Board might treat the maintenance and replacement of certain components through the operating budget in lieu of the reserve account. For example, a small 6-unit condominium might fund the replacement of mailbox stations through reserve funds as it is, relatively, a large expense. Whereas a 100-unit condominium might fund the replacement through the operating budget, as it is a relatively small expense to them (as it relates to their overall budget).
While reserve components are the focus of reserve studies, other elements may be included in the study if the association so chooses. It is critical to work with your reserve study provider to ensure the scope of work takes into account historical practices and the discretion of the board when developing the component inventory.