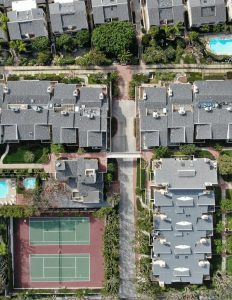 Communities are complex in nature, comprising various components or elements that can be classified as one-of-four different classes of property. These classes of property include:
Reserve components

Long-lived property elements

Operating budget funded repairs and replacements

Property maintained by homeowners
The classification of property helps assure that future boards understand whether reserves, the operating budget, or homeowners fund certain repairs or replacements and also assists in preparing annual budgets. Furthermore, it helps establish an accurate scope of work when commissioning a reserve study, making sure all reserve study components are included. A reserve study comprises a non-invasive, visual inspection of the reserve components, establishing a capital repair and replacement schedule for each and presenting a reserve fund schedule to offset these future expenses.
Reserve Components
The first class of property is reserve components. Reserve components are generally set forth in a community's governing documents. A four-part test, defined by Community Associations Institute (CAI), determines whether or not a component belongs in this category. A reserve component is defined as being the financial responsibility of the association, having a limited useful life, predictable useful life expectancies, and a replacement cost above a minimum threshold. Read about CAI's 4-part test here! 
Long-Lived Components
Another class of property is long-lived components. These elements do not have a predictable remaining useful life or their replacement occurs beyond the 30-year scope of a reserve study. Infrequent repairs or replacements are typically covered by an association's operating budget, rather than by reserves. Foundations and structural frames are examples of long-lived components, as they usually do not require major or frequent repairs, and generally aren't replaced.
Operating Budget Funded Repairs and Replacements
Operating budget funded repairs and replacements – Operating budgets should provide funds for the repair and replacement of certain reserve components.  This usually relates to general maintenance to common elements, expenditures below a minimum threshold replacement cost, or any other repair that is normally funded through your community's operating budget.
Property Maintained by Homeowners
Lastly, there is property maintained by homeowners. The repairs and replacement of such property falls solely on the shoulders of each individual homeowner. While these elements can vary between associations, they generally include assets found within the owners' individual unit but might also include other items such as doors and entry lights, for example.
The proper classification of property is not only important to an association's internal organization, but it lends value to efficient and effective budgeting. When you first commission a reserve study, your consultant will hold a kick-off meeting to gather information about your community, and help determine which components fit in each property class as laid out by your governing documents and current community practices. This dialogue allows the consultant to gather important background information on the property and to document any issues or areas of concern that management and/or the board might have. After this initial meeting is completed, it's time to get started with the physical inspection of your reserve components!