Inflation. We've all heard the word, and frankly, we're all probably sick of hearing it. The reality is that many associations may feel the impact of this current inflationary period, regardless of when it lets up, for years to come. Part of what makes this particular period of inflation so impactful is that prior to March 2020, we experienced a fairly unprecedented level of inflationary stability ranging from 3-5% each year. Inflation peaked in 2022, with a national average of 8%.
This previously long period of stability allowed boards to rely on predictable project pricing with minimal surprises when it came to labor and material costs. Because inflation has been relatively stable for the past 40 years, and board service is typically limited to one or two terms, many board members have never experienced its impact on capital planning. But, just how impactful has high inflation become on associations? 
In March, the Foundation for Community Association Research published a new survey, which found that 91% of community associations have experienced an unexpected increase in expenses that necessitated 2023 budget increases. 58% of respondents reported a 0-10% increase, followed by 30% of associations reporting an 11-25% increase. Only 6% of associations nationwide have not seen an unexpected rise in expenses or increased their budget. 
An increased need for reserve funding, shown below, goes hand in hand with higher maintenance and building safety-related costs typically covered by reserve funds. So, how are associations planning to address these expense increases? 

While 73% of associations plan to increase assessments, a combined 56% plan to reduce reserve contributions and community expenses. Of those reducing these expenses, 40% will do so by deferring maintenance. While some maintenance can be safely deferred, this is where bringing in a reserve study firm is highly recommended.  
Choosing to defer maintenance should be a careful consideration made with the guidance of a professional who can determine whether or not delaying specific projects will pose a safety or structural integrity risk to the property. Your reserve study consultant can provide guidance as to projects that can safely be deferred or if an expert is required to conduct further investigation to determine the merits of project deferral. In other words, if a component requires an invasive analysis, then a community should only defer repairs if the results of the invasive or in-depth engineering analysis warrant them.
At the disposal of reserve study firms are numerous project cost databases, including the RSMeans construction database, which is updated quarterly to reflect current project costs in a specific market. At Reserve Advisors, our engineers collect 100-150 actual historical costs per month, which supplement the database to consistently improve standardized information. This monthly collection also allows us to incorporate real-time changes in costs into our reports. Your association and market are unique, so we never rely solely on standardized information.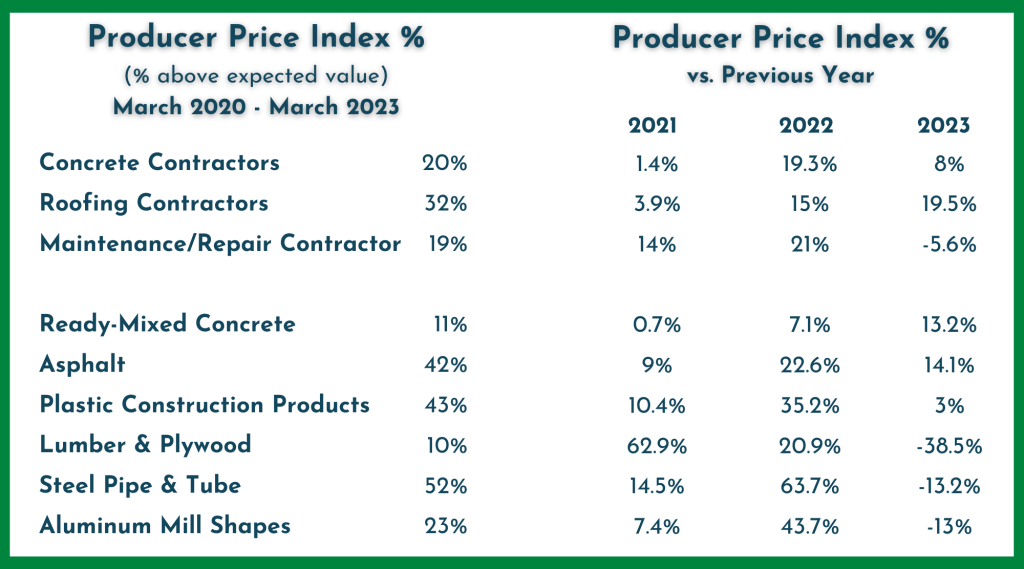 When it comes to Producer Price Index (PPI) data, the standard inflation rate of 3.5% would mean values should have increased by about 11% from March 2020 to March 2023. This was not the case, as most values skyrocketed far past 11% as shown here. The majority of values peaked from 2021-2022, and while some products and services have seen relief from 2022-2023, all remain significantly higher now than 3 years ago, with many costs still on the rise.
One of the most stressful situations an association can find itself in right now is being underprepared. While this rate of inflation is nearly impossible to plan for, if an association has not historically built up adequate reserves to fund projects that are or will be necessary near term, cost hikes will likely be more significantly impactful. 
Similarly, it's not uncommon for associations to operate in "wait until it breaks" mode, especially if underfunded, by stalling on maintenance until it becomes absolutely critical. These associations are at the mercy of the market at that time, so with insufficient reserve funds and the inability to bid with intention, higher market prices can pose serious financial burdens with limited mitigation options. In general, waiting to complete projects until the last minute will make them more expensive. Not just because of an unpredictable market, but because you run the risk of further deterioration that will require more intensive (and expensive) maintenance. 
Reserve studies are an incredibly effective capital planning tool to proactively avoid worst-case scenarios, and if the worst has arrived, find a solution. Conducting an in-depth analysis of an association's current physical and financial health, our team will lay out reserve funding and capital repair and replacement plans spanning 30 years, with emphasis on the next 5 years. Boards and managers will work with their reserve study specialist to review various options and scenarios and their implications, to determine optimal near and long-term solutions. 
If necessary, a reserve study lays out a catch-up plan for reserve funding, whether that includes special assessments, safely delaying certain capital projects, or a combination of various tactics. You'll have a plan for when projects need to be completed to maintain building safety and understand how to best fund them. 
Conducting a reserve study update will remain important in the coming years. In fact, it will be more important than ever for some associations due to higher costs and lower purchasing power. To mitigate this and maintain financial stablity, a reserve study update allows you to adjust project costs based on current market conditions, and course-correct funding needs if necessary. Changes in inflation and interest are one of many reasons that influence the frequency of updates. Your reserve study specialist can work with you to determine the optimal time to update
If your community has found itself in a sticky situation due to inflation, you're not alone – not by a long shot. The good news is you don't need to navigate these challenges on your own. A reserve study takes on the role that will lead your community out of the dark and into a brighter, safer future. At Reserve Advisors, we will never send you a one-and-done reserve study report. Your engineer will work with you to understand the capital plan, make adjustments, and address any questions or concerns you have. We know your association is unique, and with extensive experience dealing with situations similar to yours, we're ready to find solutions that work for YOU as your long-term partner.