January 17, 2022 – After recently turning 30 years old, Reserve Advisors' employees from around the nation came together for team building and continuing education to reinforce our working relationships and to thank the firm's employees for their commitment to the clients they serve. And of course, we celebrated our anniversary!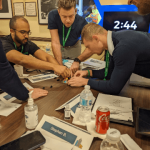 Our week-long conference in Milwaukee welcomed 56 of our 60 employees from 11 different states. The gathering served several purposes, the most important of which was continuing education. Focusing on technology in the field and conducting quality condition assessments for community associations, the goal of the training was to continue providing resources for employees so they can best serve the communities they work with. 
From accurate and detailed client reports to tailored long-term reserve funding solutions, we concentrated on the entire client experience and how to provide the best possible service from initial client engagement to report delivery and implementation. Delivering on our core values was at the heart of our work during the week, including discussions around being consultative, using critical thinking, and most importantly, providing industry-leading customer service. 
We know that strong teams lead to strong service, so training emphasized team building through several interactive sessions. Eric Coryell of Core Connections conducted a collaborative session focused on leadership and teamwork within the workplace. His guidance lent itself to how we can utilize teamwork to provide an excellent customer experience for each and every client. 
Jill Zoromski of Allied Consulting Group led a discussion surrounding our core values, what they mean, and how to exemplify them. Her session tied together how we can remain consistent in delivering on our brand promise through the guarantee that every client will be able to interpret and put into place the findings and recommendations outlined in their reserve study.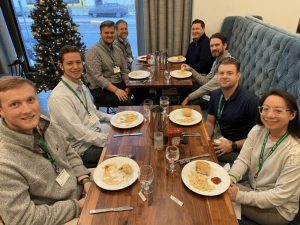 The firm's founders and previous owners, John Poehlmann and Ted Salgado, who led the company for 28 years, joined the team as well. Discussing Reserve Advisor's history and evolution, they amplified the success the company has achieved through both an industry-leading product and exemplary customer service. In 1991, the firm conducted 12 reserve studies. 30 years later, in 2021, the firm conducted nearly 2,500 studies, demonstrating how a client-focused approach leads not just to happy clients, but to continued leadership in the industry. 
The last purpose of our gathering was to celebrate. It's rare the entire team is together in one place, and it just so happened that we were all together near our 30th anniversary. Leading the way in the reserve study industry and delivering best-in-class support is something that we pride ourselves on and is worth celebrating. 
This company event was successful in continuing our mission to provide an exceptional and satisfying customer experience, and we are grateful for all the communities we have served over the last 30 years.