It is more important now than ever to not lose sight of maintaining your association's physical and financial health. As recent events have forced community leaders to focus on immediate business needs, there is an inherent risk of overlooking long-term activities, such as managing capital projects and reserve planning. If neglected for an extended period of time, failure to address critical projects and deficient reserve funds in times of economic uncertainty can be catastrophic to the long-term health of one's community.
Now is a strategic time to get a reserve study for those seeking expert guidance
A current reserve study provides expert guidance on prioritizing capital projects and ensures community leaders allocate reserve funds for those of utmost importance, which is critical in today's economic climate. When conducted by a professional firm, a reserve study should account for environmental conditions that affect component useful lives and also utilize current local project costs to ensure the most realistic projection of near-term expenditures. Accuracy of expenditures is critical to ensuring that the supporting funding plan supports your long-term financial needs.
Associations suffering from inadequate reserve funds and those struggling to prioritize capital projects benefit most from a current reserve study. The expertise and guidance they receive offers immediate support and alleviates many challenges associated with evaluating repair and replacement of common property. There is always an element of unpredictability and having a current reserve study and adequately funded reserves helps associations weather tougher times.
Prioritizing Capital Projects to Reduce Expenses
As of May 15th, 2020, Community Associations Institute research indicates that 21% of community associations have had an increase in requested payment plans or forbearance as a result of the current pandemic. Furthermore, one-third of associations have taken steps to reduce expenses due to long-term uncertainty regarding future assessment revenue. Doing so mitigates economic unpredictability and its effects on community finances.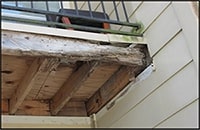 Focusing on critical capital projects and limiting discretionary expenses is an effective strategy to provide associations time to address reduced or inconsistent assessment revenue. Critical capital projects are those that jeopardize the safety of residents and/or lead to more costly repairs if deferred. For example, deteriorated wood balconies can be a life safety hazard and a major liability. Furthermore, failure to address such an issue can lead to water infiltration into the building envelopes; accelerating the rate of deterioration of siding, damaging structural components and insulation, and exposing individual units to water damage.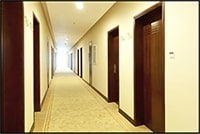 On the other hand, there are discretionary projects that, if deferred, are limited to affecting curb appeal of the association. For example, common area wall and floor coverings have no effect on the integrity of a building's structure. Furthermore, the useful life or rate at which associations freshen up common areas is discretionary. Some may take issue with dated hallways. However, deferring a project of this nature or limiting its scope to common area lobbies (omitting hallways, stairwells, etc.) allows an association to focus on and dedicate limited reserve funds to projects of utmost importance.
Managing Reserve Fund Activity
Managing reserve income and expenses is critical to surviving economic unpredictability. Exhausting such resources is not advisable and causes undue stress on the long-term physical and financial health of the community.
Community Associations Institute research indicates that only two-percent of associations have borrowed from reserve funds to secure working capital during the current pandemic. However, this number is likely to increase over time. Although this option is available for many associations, it is not considered a best practice. Additionally, state statutes and governing documents ultimately dictate whether or not associations can borrow from reserves and the mechanism for doing so. For those faced with the decision to borrow from reserves, it must be done with extreme discipline and should include a payback plan. Not doing so is a disservice to the association and may lead to a more dire situation in the future.
Benefits of Proper Preparation
Proper preparation begins with having a current reserve study. Doing so promotes the ability to maintain common property in excellent condition and increases the likelihood of maintaining properly funded reserves over time. Prepared associations are able to complete capital projects in a timely manner with little to no deferred maintenance. Furthermore, they are in a position to take advantage of vendor discounts being offered on near-term work. These associations have flexibility with maintaining their physical health and have security knowing that their community has a strong financial future.
A professional reserve study provides expert, unbiased, guidance on prioritizing capital projects. Furthermore, the supporting funding plan serves as a benchmark for maintaining adequately funded reserves in the wake of the current economy.